Leading Publisher Macmillan Gets a Fresh New Design For Its Website QuickAndDirtyTips.com
Quick and Dirty Tips, a website owned and operated by leading publisher Macmillan, is a great resource for learning new skills and finding information in a wide variety of topics including health, personal finance, cooking, culture, grammar, business, and more. The site is chock-full of superb content from expert contributors in each topic, and it provides this content in a number of formats, including written articles, audio podcasts, and videos.
When Macmillan approached Fountain City about rebranding and redesigning the Quick and Dirty Tips website, we were excited about the opportunity to help them position their fabulous content in the best way possible and give their site visitors a heightened experience to which they would want to keep coming back.
A Cohesive Approach to Design and Branding
Our biggest goal from a design perspective was to create a normalized and unified branding experience. With so much content, from so many contributors, in so many formats, it was a challenge to keep the overall branding tight and cohesive.
Here's what the original website homepage looked like:
And here's what one of the internal site pages looked like: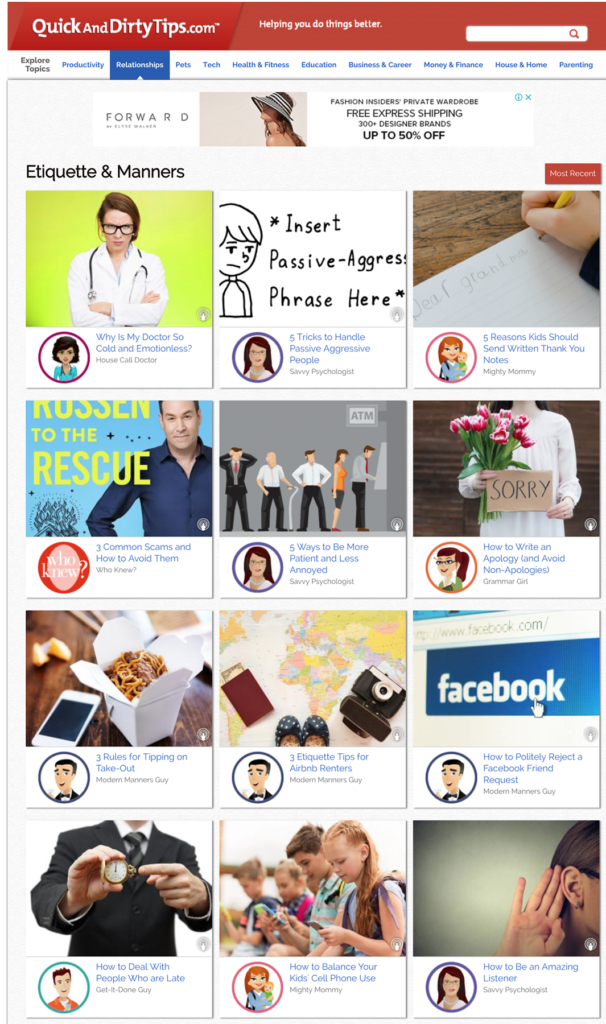 Our approach was to not only modernize the branding but also to find ways to establish greater consistency in design throughout the site. To accomplish this, we wanted to ensure we made everything simple and clean. For example, there are a number of expert podcasters contributing content on the site, but each one has their own branding. So, we redesigned all the podcast cover art and made everything more normalized.
Here are some of the wireframes we put together during the design process:
We also worked to simplify the icons and visual references on the website pages, and update the font with something that was easier to read. Proper styling of fonts makes it easier to see headlines, subheadlines, hyperlinks, and it improves the overall user experience by making it easier to find information.
An Improved User Experience
We believe that design and user experience go hand-in-hand. A great design is one that allows people to quickly find what they are looking for, and allows them to consume information without the design getting in the way.
Keeping in-line with that way of thinking, we streamlined navigation by adding a top menu to make things easier to find. We also added a podcast page that focuses just on podcasts, and a books page that makes it easy to find articles written about books. Another addition was a section for freebies–which are ways for the company to get people's email addresses in exchange for helpful free tools.
Here's what the new website looks like:
Improving the mobile website experience was another area of focus. For example, we made podcast controls and share buttons persistent on the top of the screen. This will ensure content is easier to share on mobile, which in turn will benefit the company by allowing its visitors to become evangelists. And having the podcast controls handy means visitors will be more likely to listen to podcasts on the mobile site itself, thus increasing their time on the site.
Here's a look at the new mobile design:
Overall, we wanted to make Quick and Dirty Tips an interesting resource where people could easily find and consume the information they need, while also discovering new information that might prompt them to bookmark the site and keep returning in the future.
Focus on Impacting the Bottom Line
A great website design also needs to help achieve certain business goals. For Quick and Dirty Tips, the improved user experience is intended to increase the time that visitors stay on the site, increase the number of pageviews per visit (thus reducing bounce rate), and improve visitors' rate of return. We also wanted to make it easy for people to subscribe to podcasts and email lists.
Our approach to these business goals through design included better ways to showcase all the great authors and podcasters on the site, and creating value for visitors by helping people discover more information once they are there.
By making the site cleaner, easier to share, easier to promote, and more exciting to engage with, both website performance and SEO are expected to improve over time. We'll be doing a follow-up blog post in the future to report on those results.
The new and improved Quick and Dirty Tips website is a modern, valuable resource for visitors looking to learn something new. The more user-friendly website also creates value for the company as visitors are more inclined to save, share, and bookmark pages. New mobile controls enhance the site's functionality with a larger range of visitors. Optimizing for the mobile market also means that visitors feel the site is more accommodating, and are less likely to leave. And all these changes have put the site on track for improved SEO and performance.
We invite you to experience the new Quick and Dirty Tips website for yourself!
If your website is in need of a fresh new look and an improved user experience, Fountain City can help. Contact us today for a free consultation.